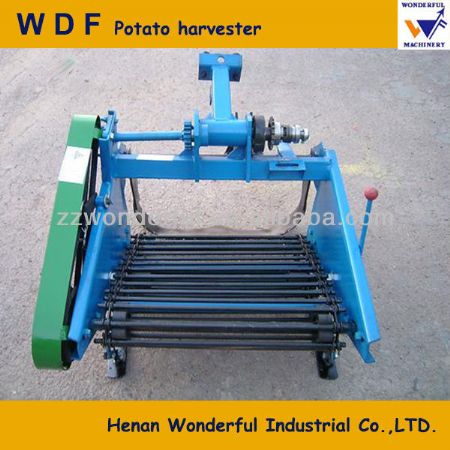 Agriculture machine mini potato harvester machine
4UD series of sweet potato harvester is mounted with the tractor of 12-60HP with back power(side power)output shaft.
The working principle is that the digging shovel digs up the soil and crops through the impetus of the tractor.
And the digging shovel make crop and soil separate through vibration sieve,
with the soil first drip down from the clearance of vibration sieve,finally the crop crashed down on to the road from the back.
Features
With the simple and reasonable

structure

Supporting style:3 points suspension

Durable, easy to use and maintenance
Technical Data- 4UD series
Model

unit

4UD-1

back power

4UD-1

side power

4UD-2(1.3 series)

4UD-2 (1.53 series)

Productivity

mu/h

3-5

3-5

6-9

6-9

Weight

kg

125

135

420

530

Working width

mm

800

800

1300

1530

Matched Power

HP

25~30

25~35

50

70
Pictures of potato harvester